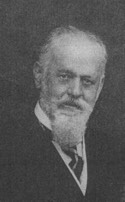 Birth
25 Mar 1859, Niederheydeck110
Burial
Schoenhauser Allee Cemetary, Berlin751
Notes for Isidor CASSIRER
Place: Originally from Schwientochlowitz in Upper Silesia.

See also Notes: WD Falk's account.

Isidor Cassirer went into the timber trade and made some money, and then moved to Berlin from Breslau. That was in the 1870's. And this was the time directly after the war with France and the unification of the Reich and a time of tremendous economic boom, which they called the "Gruenderjahre" -"the founder's years". And so being in the timber trade was very profitable because there was a lot of building going on. So he also started to speculate in building and they built big apartment houses in Berlin. He then moved into the manufacture of timber pulp in Poland and became a millionaire. Isidor lost his wife in childbirth, and married again. When the 1914 War ended part of the constitution of the new Poland or the law of the new Poland was that Germans couldn't own the property in Poland. So Isidor and his brother (Max), who owned the factory sold their factory for 11 million marks to an American consortium which paid out these 11 million marks to Isidor and his brother in Switzerland in Swiss currency.