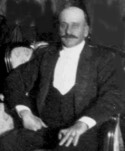 Birth
1857, Vic, Australia
Death
8 Jan 1926, 11 Stanley Crescent, Notting Hill, Middlesex, England
Birth
1857, Melbourne, Victoria, Australia
Burial
9 Jan 1926, Willesden Jewish Cemetery, London, England Sect. LX-1-67
Death
8 Jan 1926, Notting Hill, Middlesex, England
Spouses
Burial
7 Dec 1898, St.Kilda General Cemetery-Wesleyan Section Monumental C-285A
Death
5 Dec 1898, Melbourne, Victoria, Australia907
Notes for Benjamin (Bennie) Stanhope COHEN
Benjamin too the last name of his wife Edith.

So far the registration of his birth has not been found. He was the Bennie of Bennie S Cohen and the owner of the insurance company of that name that my grandfather, Samuel Sydney Cohen managed for years. It is now Edward Lumley, or Lumley Limited. His son took his mother's maiden name and at some time altered the name of the company. I don't know when the name Stanhope was taken.

No evidence has been found regarding his date of birth.

English probates show - Bennie Stanhope Cohen of 11 Stanley Crescent Notting Hill died 8 Jan 1926, Probate London 24 March to Edith Elizabeth Cohen widow and Edward Lumley Lumley insurance broker Effects UKL 4,748-15-4d.

The St Catherine's House records (March quarter 1926 Kensington Vol 1a Page 209) aged 68, and from this I have calculated his year of birth.
Notes for Benjamin (Bennie) Stanhope COHEN
Benjamin [Bennie] ran his insurance business from Insurance Housewhich stood in George Street, Sydney between Margaret and JamiesonStreets which was about 50 yards from where Henry Cohen & Sons hadtheir business. He took his wifes maiden name of Lumley and the twochildren of the marriage used Lumley as their surname.