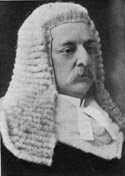 Name
Henry Emanuel COHEN


6
Birth
1 Sep 1840, Port Macquarie NSW Australia20
Death
5 Jan 1912, At sea aboard SS Friedrich der Grosse
Birth
1 Sep 1840, Port Macquarie, NSW, Australia
Death
5 Jan 1912, SS Fredk Grosse, At sea
Burial
1912, Jewish, Rookwood, NSW, Australia
Birth
1 Sep 1840, Port Macquarie, New South Wales, Australia21
Burial
9 Feb 1912, Rookwood Jewish Cemetery - Sect. 1 Row 1 Plot 7
Death
5 Jan 1912, At Sea22
Occupation
Cabinet Minister and Judge of the Supreme Court131
Notes for Henry Emanuel COHEN
Notes for Henry Emanuel COHEN
Stuart says married Sophie FRANK which is defintely correct. The marriage shown in 1884 has been found to be correct. The Reg no is 1039.

From the birth certificate of his son, Cecil, it is learnt that they were living at 'Lansdowne', 30 Bayswater Road, Darlinghurst. Father's occupation was shown as Barrister at Law. The birth was not registered until 21 September 1888.
Notes for Henry Emanuel COHEN
Henry Emanuel was a Judge in the Supreme Court of NSW, and was thefirst Arbitration Judge in Australia. Buried next to his son EdgarHenry Cohen who died in 1930. Admitted to the Bar June 1871.