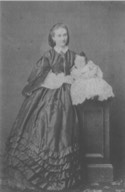 Birth
1843, Port Macquarie NSW Australia
Burial
Rookwood NSW Australia
Birth
16 Sep 1844, Maitland, NSW, Australia
Birth
1843, Melbourne, Victoria, Australia
Burial
18 Jul 1915, Rookwood Jewish Cemetery - Sect. 1 Row 1 Plot 28
Birth
1843, Port Macquarie, New South Wales, Australia
Spouses
Burial
Rookwood NSW Australia
Birth
2 Jun 1837, Sydney, New South Wales, Australia151
Burial
26 Mar 1882, Rookwood Old Jewish Cemetery-OGS-9-179
Birth
14 Mar 1839, Hobart, TAS, Australia
Death
25 Jun 1872, London, England
Marriage
1865, Sydney, NSW, Australia
Notes for Charlotte COHEN
Census of 1881 shows A S Moses living with mother ( Rachel) and also daughters A L and R C. Ref RG11/28/87/2. The address was 5 Clanricarde Gardens, Kensington. All the initials shown in this census relate to the husbands of the women. I am convinced however that I have the correct record as it corresponds with Rachel Cohen's will.
In same grave as Solomon Adolphus Brisbane Marks. Inscription reads 'Our mother relict of the late Adolphus Marks'.
Jessup lists 7 children of this marriage but says only Ada married.
I believe that she was actually born in 1841, as there is not a record for a Charlotte Cohen in 1843.
9
Notes for Charlotte COHEN
At time of death lived "Maroura" 4 Challis Ave, Potts Point
Notes for Charlotte COHEN
Buried Rookwood Jewish Cemetery Section 1 row 2 grave 27/28 alongsideher son Solomon Adolphus Brisbane Marks.