With the success of Henry Cohen, the wealth that he bequeathed, and the subsequent success of his sons building on that success, it may not seem so surprising that subsequent generations were able to build further. Clearly not every son or daughter had equal success. But overall the subsequent generations were able to make significant purchase on the establishment core of the emerging Australian society. Some examples of this success of selected descendants of Henry Cohen and some of their spouses are provided below.
It should be stressed that these are just a few examples. No attempt has been made to be inclusive and more extensive coverage is given in the publications by Philip Cohen and Barbara Falk presented elsewhere in this site. (Much of what follows is based or quoted from the corresponding entries in the work of Philip Cohen. Rather than present footnotes, detail on sources may be found there, in the family tree section of this site, or in the book by Barbara Falk.)
Charnwood Group (1918) Photo:

This photograph (taken possibly on the 40th wedding anniversary of Alfred and Elizabeth Hart, at "Charnwood" in 1918) depicts the following persons: (back row, standing) Hubert Blaubaum (a grandson of Samuel Henry Cohen and Eliza née Hyams); Arthur Isaac Cohen (son of Edward Aaron Cohen; married his first cousin Violet, daughter of William Cohen); Violet Cohen (daughter of William Cohen; married Arthur Isaac Cohen); Arthur Cohen ('Little Arthur', cousin of Elizabeth Hart née Cohen; son of George Cohen and Elizabeth née Davis. George was the child of Abraham Cohen and Sophia née Cohen and the twin brother of Henry Emanuel Cohen); Joyce Cohen (daughter of Arthur Cohen and Violet née Cohen; married ______ Kaye in 1919); John Jacobs (married Kate, daughter of Edward Aaron Cohen); Ted Hart (son of ______); Annie Cohen (daughter of Edward Aaron Cohen; married Montague Cohen); Montague Cohen (son of Simeon Cohen; married Annie Cohen, daughter of Edward Aaron Cohen); Muriel Hart (daughter of _____; married Rupert Hart, son of Alfred and Elizabeth); Rupert Hart (son of Alfred and Elizabeth; married Murial Commens[?]); (front row, seated) Elizabeth Hart (daughter of Edward Aaron Cohen; married Alfred David Hart, son of Samuel Hart); Alfred David Hart (son of Samuel Hart; married Elizabeth, daughter of Edward Aaron Cohen); Kate Jacobs (daughter of Edward Aaron Cohen; married John Jacobs, son of ______); Alexander Marks (son of Caspar Marks; widower of Miriam, daughter of Edward Aaron Cohen); Benjamin (Bennie) S. Cohen (son of Edward Aaron Cohen; married Edith Lumley, daughter of Edward Lumley).

Source: Dinah Harvey via Philip Cohen: identifications by Philip Cohen

CLICK ON PHOTO TO ENLARGE
Grandchildren
The Hon. Justice Henry Emanuel Cohen (1840–1912) was a grand-son of Henry Cohen. He was one of twin boys born to Henry's daughter Sophia and Abraham Cohen at Port Macquarie on 1 September 1840.
The following paragraphs are distilled by Philip Cohen from the notes of Henry Robert Cohen, a grand-son of Henry:
With his basic education completed, at 16 years of age, Henry Emanuel joined the merchant firm of David Cohen & Co. as a clerk. The head office was at Maitland and it was there that Henry was sent after a period in Sydney. The following is an extract from a letter sent by Samuel Cohen (in Sydney) to Lewis Wolfe Levy, the partner in Maitland:

The young gent who made out this invoice, I intend to send up to you. I am certain you will like him. He is certainly one of the most "kute" and respectable lads I have ever met. He is a Jew and the son of Mr A. Cohen late of Goulburn. He will suit you well. I did intend to keep him in Sydney office, but I can get another and if he does not suit can discharge. You want a lad who will stop with you for years and that you can be certain.

"Henry was to remain with Levy for eight years until, in 1864, he joined in business with his twin brother George at Bathurst. This venture was not a success and closed after two years.

"In 1868 Henry decided he wanted a career in the law and traveled to London to study. He entered Middle Temple and read with several of the eminent lawyers of the London Bar. In 1871 he was admitted to the English Bar and immediately sailed for home on the Rangoon. The ship was wrecked on the rocks at Galle (Ceylon) on 1 November 1871. Henry was unharmed but lost all his possessions. . . ."
On 15 July 1884 at the Great Synagogue, Sydney, Henry Emanuel married Sophie Frank the daughter of Leo Frank of Hanover, Germany. Sophie had arrived in Sydney some twelve months previously as governess to Sigmond Hoffnung's children.
The following is extracted from the introduction to an interview, given by Henry Emanuel Cohen while on a 12-months leave in England and on the Continent, which appeared in the London Jewish Chronicle in about 1911:
"[Henry Emanuel] qualified for the Law in England and was "called" in the year 1871, returning, subsequently, to Sydney to practice. In 1881, he became District Court Judge and Chairman of Quarter Sessions, holding the position for about ten months, and then resuming his practice at the Bar. In 1895, he was appointed, by the present High Commissioner for the Commonwealth (Sir George Reid), then Premier of New South Wales, Acting Judge of the Supreme Court of New South Wales, receiving in the following year, and at the same distinguished hands, an appointment as Permanent Judge. Altogether, Mr Justice Cohen has spent nearly sixteen years on the Bench—the present occasion being the first on which leave of absence has been granted him from his judicial duties.

"In 1875, Mr Justice Cohen was returned as member of the Legislative Assembly of New South Wales by the constituency of West Maitland, where for some seven-and-a-half years (beginning in 1856) he had been in the service of the mercantile firm of David Cohen and Co. In 1877, he was again returned for West Maitland, and, on the formation of the Farrel Ministry, became Colonial Treasurer.

"At the General Election of 1833, he was once more returned for his old constituency, receiving the appointment of Minister of Justice in the Stuart administration. This post he retained until the end of 1885 when, the Ministry having been dissolved through the ill-health of the Premier, he retired from politics altogether, and devoted his time entirely to his profession. After the general election of 1880, however, occurred a striking incident in the Judge's career. At a meeting of the party to which he belonged, he was invited to allow himself to be nominated for the Speakership of the New South Wales Parliament. For purely personal reasons the honour was declined; but that he would have been chosen is evident from the fact that the gentleman who was nominated in his stead was duly elected by the House of Assembly.

"Last December, it may be recalled, the Jewish community of New South Wales marked the occasion of the Judge's seventieth birthday by having his portrait painted in full length scarlet and ermine judicial robes and full-bottomed wig. With the approval of the Trustees of the National Art Gallery at Sydney, the portrait has been hung in that Gallery."

Henry Emanuel and Sophie had two children, both of whom became barristers in Sydney:
Henry Emanuel Cohen died, aged 72 years, at sea, aboard the ss Friedrich der Grosse, at 6.30 a.m. on 5 January 1912, while returning from the above-mentioned 12-months leave. Sophie died in Paris in 1943.
George Cohen, another grand-son of Henry Cohen, was the twin brother to Henry Emanuel Cohen (born to Sophia and Abraham Cohen at Port Macquarie on 1 September 1840).
The following paragraphs are distilled from the notes of Henry Robert Cohen, grand-son of Henry Emanuel Cohen:
In 1856, at the age of 16, George was sent to Tamworth to obtain work experience with his uncle William Cohen. In 1864, he and his twin brother Henry Emanuel went to Bathurst and commenced trading as general storekeepers. Once again the discovery of gold was the attraction. However, they were not successful and closed the business after two years. In 1866 George went to Goulburn, maybe to join his older brother Frederick. There he met and [at Sydney] married Elizabeth Davis, the daughter of Isaac Davis, who owned an hotel in the town.
After his marriage George took his wife to Cooma, some 150 miles southeast of Goulburn. Here he established a store. This time he was successful. His five children were all born at Cooma.
In 1882 George took his family back to Tamworth. Here his son Victor was to marry his first cousin Ida the daughter of George's younger brother Nathan. For a brief period George owned a store in Gunnedah some 30 miles west of Tamworth. In 1886 he returned to his birthplace, Port Macquarie.
George and Elizabeth had five children:

Nathan Cohen, another grandson of Henry Cohen was George Cohen's youngest brother.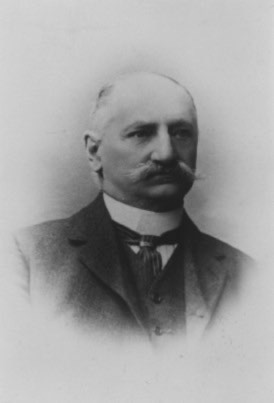 The following is extracted from the notes of the Tamworth Historical Society (1996):
"On the evening of Friday 27 August 1858 a two-wheeled cart drawn by two sweating horses jolted over the stony Peel River ford near Jewry Street, ascended the north bank and then lumbered eastward down Peel Street. On board was a youth of 16, Nathan Cohen, who had come from Newcastle on John Gill's modern passenger transport vehicle. The 180 mile journey had taken three days. The vehicle was halted in front of Cohen & Levy's store, site of Kensell's, the passengers alighted and the mails were delivered to the store for sorting. Many of Tamworth's population of 500 were there to welcome the cart and to collect their mail, and there was a good sprinkling of people from outlying properties for the arrival of the mail was an event of great importance.

"Nathan Cohen had come to Tamworth to join his uncle William Cohen, who conducted a store in Ebsworth Street, West Tamworth. Nathan and his uncle were unrelated to the Abraham Cohen of Cohen & Levy. The new arrival had been born at Port Macquarie, received his formal education in Goulburn under the care of the Rev. Mr Patterson and had received business experience in Sydney. He remained with his uncle William for ten years and after the latter's death [in 1871] he managed the business on behalf of William's widow. . . .

"In 1868 [sic] he started his own business as an auctioneer and estate agent, his office being on the site of the shoe store at 335 Peel Street. By 1870 he had established a soap works, had coal mining interests, was foundation director of the Tamworth Permanent Mutual Benefit Building Society and was an active worker and office bearer for the Tamworth Hospital. During his lifetime he was associated with every organisation which worked for the benefit of Tamworth and its citizens.

"In 1872 he erected the Exchange Buildings which were subsequently enlarged. 1875 saw the beginning of his partnership with Mr David Nathan who married Abraham Cohen's daughter, Siela [Sierlah]. This partnership was dissolved in 1885 and Mr M. C. Solomons joined the firm, an arrangement which lasted until 1895. Nathan Cohen then operated the business himself until 1908 when it was converted to a limited-liability company.

"The dairying industry in the Peel Valley was founded by Nathan Cohen. At his farm, "Percydale", on the Armidale Road, he established a dairy, installed a small butter factory and employed his own butter maker. To improve his dairy herd he purchased the best stock available and his Jersey bull "Sir Patrick" was the first of that breed to be brought into the Peel Valley. Later when the Tamworth Co-Operative Dairy Society was formed, he became a foundation director. . . .

"In 1866 Nathan married Esther Solomon and lived next door to his uncle at what is now 39 Church Street, West Tamworth. On account of his wife's association with the NSW south coast, their home was called "Eden Cottage". About 1875 he built a new two-storey brick residence in Carthage Street and in honour of his father's home town he named it "Brighton". At the time it was the first home built in the area and many people wondered why he built "up in the bush". "Brighton" became 98 Carthage Street. His wife died in 1880 leaving him with six young children. He married his wife's sister, Deborah, a couple of years later. There was one son, Eliot, from his second marriage. . . .

"Shortly before going overseas [in 1908] Nathan had been gored by a bull and from this he never fully recovered. His death came in August 1910. His demise had such an impact that on the day of his funeral "life stopped in Tamworth and all shops closed in his honour". He was described as being one of exemplary benevolence, a source of great moral, commercial and social strength, and one of the main pillars of Tamworth."
Nathan was understood to be a prominent representative of the local Jewish community. Rabbi Dr. Israel Porush, in his article "The Jews of Tamworth" (AJHS, Vol. 3, Pt 4, December 1950) writes:
"The most prominent Jewish resident of Tamworth and the Northern District was undoubtedly Nathan Cohen, who belonged to an old Anglo-Jewish family. His father was Abraham Cohen of Port Macquarie, where Nathan was born in 1842. He came to Tamworth at the age of sixteen, and resided there for upwards of fifty years. He was first employed by an uncle [on his mother's side], William Cohen, who carried on business as a general merchant. After the death of his uncle, he managed the business for a time on behalf of the widow, but in 1872 he established his own business as auctioneer and agent, for a while together with partners, then entirely on his own.

"Already as a young man he took a keen interest in the public life of the town, and furthered its welfare throughout his life. There was scarcely a movement for the advancement of the welfare of Tamworth with which Nathan Cohen was not connected. He played an important part in building up the district. He was married to two sisters in succession, the daughters of Solomon Solomon of Eden: Esther and Deborah.

"The Municipal Council of Tamworth was formed in 1876, and Nathan Cohen was a member of the first Council, and then for a number of years afterwards, twice occupying the position of Mayor—in 1882 and 1883.

"In the commercial world he was prominent. He founded, or helped to found, a number of companies which have flourished to this day [1950], and which have contributed much to the well-being of the population. The Building Society and the Dairy Company should be mentioned in particular. He was also Chairman of the Tamworth Gas and Coke Co., was closely associated with Centenary Coal and Coke Co. and the Green Mount Land and Quarry Co. The core of his commercial activities was the firm of Nathan Cohen & Co. Ltd., auctioneers and stock and station agents. After Nathan Cohen's death the firm changed into Victor Cohen & Co. Ltd., Victor being Nathan's nephew and son-in-law, the husband of his daughter Ida.

"Also in the charitable field he was very active. He was largely instrumental in the building of the Tamworth Hospital, and belonged to its Committee for many years, occupying on several occasions the offices of Treasurer, President and Trustee.

"Nathan Cohen took a leading part in every philanthropic movement of the town. Also in the sporting world he occupied a prominent position. He was President of the Cricket Club and a Trustee of the Jockey Club.

"His personal qualities were acknowledged by his fellow-citizens, who saw in him a friend ready to help and to advise. He was compared to "one of the old Patriarchs of his own noble race." He enjoyed high esteem in the city, which was publicly manifested on the occasion of his departure for Europe in 1908. The tributes paid him then, and two years later at his funeral, are evidence of the warm place he occupied in the hearts of the Tamworth citizenry. He died on 15 August 1910, leaving a widow and seven children. He was buried at Rookwood Cemetery, Sydney, next to his first wife.
Nathan first wife, Esther, died at Tamworth aged 34 on 16 December 1880, in childbirth having their seventh child. His second wife Deborah (and Esther's sister) died aged 99 on 20 February 1942. Nathan died at Tamworth aged 68 on 16 August 1910

Sir Benjamin Benjamin: Henry's grand-daughter, Fanny (1839–1912) married Benjamin Benjamin in 1857.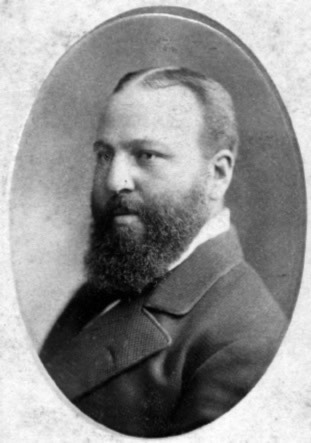 Sir Benjamin Benjamin (1834–1905)

"The Hon. Sir Benjamin Benjamin, Kt., jp, died on 7th March 1905. He had been the second Jew in Australia to receive a knighthood. Born in 1834, he was the son of Moses Benjamin and a relative of the founders of the Melbourne Synagogue. Benjamin Benjamin arrived in Victoria in 1843, aged nine years, and was educated at an academy conducted by one Rev. W. H. Jarrett. He became a partner with his father and brother Elias in M. Benjamin & Sons, merchants and importers, and in 1846 he joined Edward Cohen in conducting a tea importing and general commission agency.

"He was with Cohen until 1878 [sic], when, aged 44, he retired from business and devoted the rest of his life to public service. In 1870 he was elected to the Melbourne City Council as representative for Albert Ward; he became an Alderman in 1881, and was Mayor of Melbourne from 1887 to 1889. He was a member of the Legislative Council from 1889 to 1892. He acted as a Commissioner for the Melbourne Centennial Exhibition in 1888, and it was in recognition of his services and hospitalities for this exhibition that he was knighted.

"Sir Benjamin had many philanthropic interests, among them the Hospital Sunday Fund and the Jewish communal charities. He was many times President of the Melbourne Hebrew Congregation—from 1968 to 1875, 1879 to 1880, and 1885 to 1891, a total of fourteen terms! He was one of Jewry's finest representatives."

Rev. Elias Blaubaum. Henry's grand-daughter Agnes Rebecca Cohen married Elias Blaubaum, in 1877.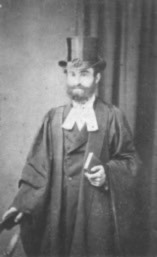 The Reverend Elias Blaubaum (1847–1904)
The following is distilled by Philip Cohen from a lengthy monograph by Dr Hilary L. Rubenstein (AJHS, Vol. 9, Pt. 8, 1985)
Rabbis and ministers such as Abrahams and Cohen, A. T. Boas, A. B. Davis and D. I. Freedman have been accorded their due places in the annals of our community. They are the subjects of entries in the ADB. The failure to include Rev. Elias Blaubaum in that invaluable and prestigious reference work is a serious sin of omission. Blaubaum, minister of the St Kilda Hebrew Congregation for thirty-one years and editor of the Jewish Herald for almost twenty-five, was one of the most significant figures—clerical or lay—in the entire Australian Jewish story. He was certainly the most Jewish creative.

Australian Jewry should be more aware of this remarkable man and his place in our history.

Elias Blaubaum came from an orthodox German Jewish family. He was born towards the close of 1847 in Rotenburg, a country town on the River Fulda in Hesse-Kassel. His parents were Aaron Blaubaum (Aharon ha-Levi), a drapery merchant, and Miriam, née Nussbaum. The Jews of Hesse-Kassel, who were finally emancipated in 1866 when the principality came under Prussian rule, had been settled in small rural communities such as Rotenburg for centuries. The unusual name Blaubaum, meaning "blue tree", may have derived from the distinguishing shield outside the family residence, a common practice among Jews of that part of Germany, who adopted surnames long before they were compelled to do so by law.

Throughout his life Blaubaum exhibited the traits of a cultured and enlightened German gentleman while remaining a proud and passionate Jew. He did not believe that the conferral of civil rights upon Jews obligated them to dilute their Jewishness. On the contrary, he believed that the acquisition of rights of which their forefathers never dreamed behoved the Jew to cling all the more tenaciously to their ancestral religion. His attitude exemplified that of the established Australian Jewish community, with its pursuit of integration without assimilation, and its resolve to resist both the honey and the sting of the wider society.

He was a gifted scholar, and he graduated about 1870 from the Royal Provincial College of Kassel, where he apparently trained as a teacher. Upon graduation he became assistant minister and Hebrew teacher at Gudensberg, a little town in the Kassel region. In 1873 Melbourne businessman Isaac Hallenstein, on a business trip to Europe, interviewed him for the post of St Kilda's first minister. He was then twenty-five years old, a young man of "prepossessing appearance" as the Australian Israelite put it: slight, dark, and unmistakably "semitic". He was not an ordained rabbi, but his three years' experience at Gudensberg was sufficient to persuade a rather desperate St Kilda congregation, which had been searching for a suitable man for months, to accept Hallenstein's recommendation that he be appointed.

Leaving Germany in October 1873, Blaubaum traveled to London for an audience with Chief Rabbi Nathan M. Adler. Blaubaum boarded the steamship Great Britain at Southampton knowing hardly a word of English. By the time he arrived at Sandridge (Port Melbourne) eight weeks later, on 23 December 1873, he had taught himself enough to be understood. Interestingly, his shipboard journal begins in German and ends in English.

Blaubaum was "a ripe scholar and an indefatigable student" who saw it both as a duty and a pleasure to share with others what he had learned. "Improve yourself! Then endeavor to improve others!" was the rabbinic dictum which served as his watchword. He had a deep sense of history and was always very conscious of his ministerial role as a steward of Judaism, whose task it was to guard and to hand on his heritage to the next generation.

Rabbi Dr. Abrahams, who arrived in Victoria in 1885 and quickly became one of Blaubaum's most devoted admirers, remarked that never had he met anyone with such "restless energy":

The mainspring of his life's work was the desire for improvement. This influence was magnetic and contagious and induced me to take up certain studies which otherwise I would have neglected. He sought at the close of each year to be able to answer satisfactorily the question "Am I richer in knowledge and good deeds than I was twelve months ago?" Indeed, every evening he wished to look back on something attempted, something done, to the glory of God and the well-being of his fellow creatures.

In 1877 Blaubaum married Agnes Rebecca Cohen, daughter of Samuel [Henry] Cohen of East Melbourne and later of St Kilda, an official assignee of insolvent estates. Samuel Cohen was a Londoner whose family originated in Amersfoort, Holland, and was related to the Waley-Cohens, distinguished in Anglo-Jewry.

For the first few years of their married life the Blaubaums lived close to the synagogue in Charnwood Grove, St Kilda. Later, as their family increased in size, the Blaubaums moved to Mozart Street, and there the minister lived for the rest of his life. The Blaubaums had seven children. Two girls, Meta and Zilla, were followed by five boys: Athol, Hubert, Eric, Otto and Ivan. Mrs Blaubaum died in 1892, when the youngest child was still a baby. Blaubaum never remarried.

All his children were academically gifted and he sacrificed his own comfort in order to pay for their education. Meta, a piano student at Melbourne Conservatorium of Music, became a well-known accompanist and eventually married David Phillips of Dunedin. Zilla, who won a Melbourne University exhibition for French and German, went on to study medicine. She abandoned her course on her marriage in 1903 to Isidore Marks, dentist son of a former president of the Ballarat Hebrew Congregation. Blaubaum's sons, particularly the two eldest, excelled at Wesley and carried off a truly impressive number of prizes and scholarships. Athol was, in addition, a good sportsman and a member of the Wesley College football team. Blaubaum encouraged his children to pursue careers which would benefit humanity. Athol, Hubert and Ivan became doctors in Melbourne. Otto became a dentist in Launceston, Tasmania. Eric, who suffered from ill-health, worked for Michaelis-Hallenstein's Dunedin branch, and was killed in France during the First World War.

Athol and Otto married out of Judaism and the entire male line of the Blaubaums ceased to be Jewish by the next generation. It was an ironical twist of fate for the descendants of a man who strove to make young Jews "proud of their lineage and conscious of their religion" and who had declared that "we are not now so often exposed to the shame of seeing our men of intellect and ability abandon their inheritance for a mess of pottage." The situation was a salutary reminder of the fragile ties binding Jews to their heritage in Australia's easy and tolerant society during the first half of the twentieth century.

Blaubaum was a staunch and outspoken believer in the equality of women, their right to social emancipation, higher education and economic independence.

It was in the Jewish Herald, the journal Blaubaum established in December 1879 and edited until his death, that his moral and intellectual greatness became apparent. He had been a passionate advocate of the abortive Colonial Jewish Times, which Moritz Michaelis and others had intended as a successor to the defunct Australian Israelite. Blaubaum was justifiably proud of the high journalistic reputation of the Jewish Herald.

Blaubaum's strong, dogmatic personality brought him his share of opponents and detractors. The Jewish Herald conceded as much when, in an unatributed obituary for him, it observed that no man who ever lived was entirely free of enemies.

In 1902 Blaubaum's health began to deteriorate. In 1903 he left Melbourne on a nine week vacation to Sydney, the Pacific Islands and New Zealand. His elder daughter Meta accompanied him. From each place on his route this diligent (and, as it proved, dying) man sent long, entertaining and informative articles back to Melbourne for inclusion in the Jewish Herald. They show that, ill as he was, his writing had lost none of its verve and vigour. These last offerings from Blaubaum's pen are marvelous social and historical documents. They give more than a tourist's superficial impressions. They provide a vivid and valuable insight into Pacific life and administration at the turn of the century.

He returned from his travels refreshed and apparently cured. But his illness was more serious than his doctor imagined. He had an obstructive tumor of the bladder and in April 1904 was admitted to hospital where he underwent surgery. The operation was considered a success, but less than a fortnight afterwards, on 21 April 1904, Blaubaum died. Two days later he was buried beside his wife in St Kilda cemetery.

Blaubaum was only fifty-six when he died, and tributes arrived at St Kilda from Jewish communities throughout Australia.

Blaubaum's anonymous obituarist wrote that even those who had crossed swords with him must agree that he was "a good man and a good Jew." Rabbi Abrahams recalled that Blaubaum's "efforts were not showy or ostentatious, but modest, quiet and practical." Blaubaum's lasting legacy was the Jewish Herald. Happily the quarter-century's issued which he edited are still extant. They are an indispensable source for the history of Australian Jewry. They illustrate the timelessness of Judaism, and remind us that its adherents can communicate not only across continents but across centuries. They help us to understand ourselves, for their pages consider the sorts of problems and issues which our Jewish community is confronting today. The busy pen of Elias Blaubaum can still instruct and inspire.
Elias and Agnes had seven children. He died in 1904.
Montague Cohen, the son of Simeon Cohen, married Henry's grand-daughter Annie Cohen.
The following is distilled by Philip Cohen from the Australian Dictionary of Biography (vol. 8, p.57):
Montague Cohen (1855–1931), lawyer and businessman, was born on 4 August 1855 at Collingwood, Melbourne, eldest child of Simeon Cohen, salesman and later merchant, from Devonshire, England, and his wife Esther, née Levi (Levy), from London. Educated by tutors and at Scotch College, Cohen studied law at the University of Melbourne. While serving articles he was a founder and secretary of a literary and debating society whose members included Alfred Deakin and Theodore Fink. After admission in 1878, Cohen joined P. D. Phillips as a partner. Seven years later he became a partner in Pavey, Wilson and Cohen (Pavey's). He practiced as a solicitor but made rare, shrewd appearances as an advocate. The Law Institute of Victoria elected him president in 1903.

Cohen's financial and political acumen led him to much business activity in the boom years, especially in the brewing and non-ferrous metals industries. He survived the 1890s depression although many associates became insolvent. The stabilisation of the liquor industry owed much to him: a director in the 1890s of the Foster Brewing Co. Ltd, in 1903–07, with C. L. Pinschof he negotiated the merger of the main Victorian breweries under the name of Carlton and United Breweries Ltd—and in 1925 a further combination took place, Cohen put the Brewers' Association of Victoria on a sound footing; he was president of the Liquor Trades' Defence Union of Victoria for many years and a member of its federal organisation. In 1887 he was a founder of the Swan Brewery C. Ltd in Perth and remained its chairman of directors for forty years.

Through A. J. F. de Bavay, who had been with Foster's, Cohen became involved in the non-ferrous metals industry and, with W. L. Baillieu and other members of the Collins Street group, used personal funds to subsidise long-term research to develop the de Bavay flotation process. Cohen's directorships included twelve major companies, among them Amalgamated Zinc (de Bavay's) Ltd, and Electrolytic Zinc Co. of Australasia Ltd.

On 23 February 1881 he had married Annie, daughter of Edward Cohen. She attended the Presbyterian Ladies College in 1879. 'Mrs Monty' was supported by her husband in her life work of organising and dispensing charity. Between 1897 and 1939 she served as committee-member, treasurer and, for nineteen years, president of the Victorian Infant Asylum (Berry Street Founding Hospital, East Melbourne), and was an energetic and forceful committee-member of the Melbourne District Nursing Society. Charitable to her fingertips, she never spoke of what she did; she went into the homes of people in trouble—an 'angel on earth', albeit a tiny, imperious and strong-willed angel. The couple maintained links with the Melbourne Jewish community. 'Mrs Monty' was at one time vice-president of the Melbourne Jewish Women's Guild and occasionally worshipped with the Melbourne Hebrew congregation.

Cohen was a formidable man. A proficient pianist, he sometimes performed for charity. When young he played football and cricket and was a cross-country runner. Later he was a founder and trustee of the Amateur Sports Club of Victoria, and, as president of the Victorian Amateur Athletic Association, presented a shield to stimulate interest in the 10-mile (16 km) cross-country run. Cohen was generally respected for his attention to the realities of business and professional life and for his integrity. He died in Melbourne on 18 October 1931 and was buried in Melbourne general cemetery, survived by his wife and their one child, Harold. Cohen's estate was sworn for probate at £131,074 in Victoria and £79,076 in South Australia. His portrait by Longstaff is held by the family.
Montague and Annie had only one child: Harold Edward (see below). Montague died in 1931 and Annie eight years later in 1939.
Great grandchildren
The number of great grandchildren is of course very large. It will suffice here to mention just two of them as representatives of this large pool of grandchildren and subsequent generations.
Ida Cohen MBE (1867–1970),was the eldest daughter of Nathan Cohen (1842–1910) by his first wife, Esther. Her obituary (AJHS, Vol. 6, Pt 8, July 1970, p.552), included the following information:
Ida Cohen died peacefully on Saturday 24 April 1970 at St Elmo Private Hospital, Tamworth, NSW. She was 102. At the funeral, which took place at Tamworth cemetery, Rabbi Harkaway, of Parramatta, emphasised her long life of devoted service to her family, the community and mankind. In particular she rendered untiring efforts on behalf of the Red Cross for which she received due recognition in gaining the well deserved honour of the M.B.E.

Ida Cohen was born in Tamworth on 27 August 1867. Nathan Cohen's family was remarkable and gifted, and many of the qualities of its vigour, enterprise and integrity were vested in Ida Cohen,. Her great-grand-father, Emanuel Hyam Cohen, was the founder of the Jewish community in Brighton, England, and of his sons may be noted Levy Emanuel Cohen was a journalist and newspaper proprietor of controversial views. Levy Cohen's younger brother, Abraham Cohen came to Australia about 1836 where he married and settled to produce a large family. Apart from Nathan Cohen, who was an important personality in Tamworth and was twice Mayor of the town, the family included the Hon. Henry Emanuel Cohen, a prominent lawyer and politician, Fanny Cohen who married Sir Benjamin Benjamin, of Melbourne, and Caroline Cohen who married another journalist and newspaper proprietor, Solomon Joseph.

Ida Cohen lived the whole of her long life-span in Tamworth and witnessed the unfolding of the story of Tamworth Jewry which is typical of so many communities of Australian country towns. In the days of development and pioneering Jewish enterprise contributed much to the area and a small but vigorous communal life existed. Over the years the Jewish population drifted away, mainly to the State capitals and became absorbed by intermarriage and assimilation. Mrs Cohen was one of the last remaining Jewish residents in Tamworth. Apart from her work for the Red Cross she supported many causes both Jewish and non-Jewish and was a member of the Australian Jewish Historical Society.
In 1901 she married her first cousin Victor Cohen and they had three sons: George, Nathan and Alan.
Brigadier the Hon. Harold Edward Cohen, CMG, CBE, DSO, VD, a great grandson of Henry Cohen, was the only child of Montague and Annie Cohen and married Freda Pirani the daughter of Samuel Gabriel Pirani and Sarah Susan Frankel.
Harold Cohen (1881–1946) and his wife Freda (ne Pirani 1886-1969)
Harold Cohen (1881–1946) at various stages of his career
The following is distilled from the Obituary (from AJHS, Vol. 2, Pt. 6, December 1946, p.359):
Harold Cohen was born in Melbourne in 1881, where his father, Montague Cohen, was an early colonist, and his mother a well-known communal worker. His grand-father, the Hon. Edward Cohen, born in London, was the first Victorian Jewish Cabinet Minister.

Showing considerable promise in his student days at Xavier College and Melbourne University, where he won several prizes, he commenced practice as a solicitor and joined the family firm of Pavey, Wilson & Cohen.

In the Great War, 1914–18, he was decorated on several occasions, being awarded the c.m.g. and d.s.o. and twice mentioned in dispatches. He was twice wounded in action. He served in the Middle East in the recent conflict as an Honorary Red Cross Commissioner. On his return to Australia he was appointed Director of Amenities, and subsequently Deputy Adjutant-General of the A.M.F.

In civil life he had a distinguished record. He was always keenly interested in the welfare of his co-religionists, and was a member of the St Kilda congregation. As President of the Victorian Jewish Returned Soldiers' Circle from 1937–46, he frequently argued the Jewish case in returned soldiers' circles. He was Chairman of the Victorian Jewish Returned and ex-Servicemen's Association at the time of his death.

In the Victorian Legislative Assembly the following tribute was paid to the deceased, and the motion put to the House was moved by Mr Cain, Premier and Treasurer, and supported by Mr McDonald (Shepparton), Mr Hollway (Ballarat), Mr Lemmon (Williamstown), Lieut.-Col. Dennett (Caufield), Mr Michaelis (St Kilda), and the Speaker of the House, Sir George Knox:

That this House expresses its sincere sorrow at the death of Brigadier the Honorable Harold Edward Cohen, c.m.g., c.b.e., d.s.o., v.d., and places on record its acknowledgment of the valuable serviced rendered by him to the Parliament and the people of Victoria as a member of the Legislative Council for the Electoral Province of Melbourne South from 22nd June, 1929, to 12th February, 1935; member of the Legislative Assembly for the Electoral District of Caufield from 2nd March, 1935, to 29th April, 1943; Honorary Minister from 1932 to 1935; and Minister of Public Instruction and Solicitor-General in 1935.

Brigadier Cohen's death at the comparatively early age of 64 is a loss which Australia and Australian Jewry can ill afford. He leaves a widow, well known in the local community, two sons and two daughters.

Harold Cohen's widow, Freda Pirani earlier and later in life.
Harold left four children: Barbara, Geoffrey, Audrey and Edward Cohen and are shown below from a foldout set of photos he took with him in his wallet to the war.

Edward and Geoffrey would make there names in business and service to the community, with Edward receiving amongst other honours, a knighthood.
Audrey would marry Bruce Stanley Benjamin , great grandson of Abraham Cohen (and descendant of Don Menachem Chajim Ha-Kohen, 1650-1723, of Schwienfurt).
And Barbara would become an academic, receiving an honourary doctorate from the University of Melbourne, and marrying a refugee German Jewish philosopher, Werner (David) Ferdinand Falk , the son of a Cassirer (and descendant of Moses ben Israel Lazarus, 1525-1552, of Cracow).
Jim Falk