| | | |
| --- | --- | --- |
| Falk | Scattered from Dessau - across two hemispheres and four continents | |
The Falk family of course has its own history. But for the purposes here the family is also placed through its intermarriage with the Cassirer and then Cohen families. First, Fritz Falk, a Jewish medical Doctor in Berlin, married Charlotte Betty Cassirer. Then, their son, Werner Falk, forced from his homeland and finding himself in England married Barbara Cohen, a young girl living in London who had come from Australia to study at university.
The origins of the Falk family has been traced back to Lazarus Falk and his wife Zippora Löwe. What is currently known of them relates to entries in the Synagogue book of the City of Dessau. These reveal that Lazarus was born in 1800 in Dessau in Germany (a city a little South of Berlin). At that time Dessau was an old German Principality. Thus Lazarus was not a foreign Jew from Poland. The little principalities in Germany mostly tolerated a Jewish community and thus Lazarus would, to a significant extent, have been protected from the worst excesses of anti-semitism. The Falk family had in common with the Cassirer and Cohen families that Dessau was in the same triangle in Central Europe from which they also originated. It was in Dessau that Lazarus married Zippora on 17 April 1833. Sadly he died a mere five years later, in 1838 at the age of 38. He left behind at least one child - Ferdinand Falk.
Ferdinand was born in Dessau, on 30 April 1837, and was thus only one year old when his father died. He became a merchant and married Margarete Karo, who was familiarly known as Gretchen. Their pictures are shown below.†
| | | |
| --- | --- | --- |
| | | |
| | Ferdinand and Margarete (Gretchen) Falk (ne Karo) | Graves of Ferdinand and Margarete Falk, Tempelhof , Berlin |
Since Ferdinand was buried in Berlin, and his son born there, it is clear that at some time, just as with the Cassirer's he followed his business interests to the larger city of Berlin. Ferdinand and Margarete had four children: Anna (born about 1869), Fritz and Hans (born a few years later), and Erich (born 1889). Of Hans, nothing is known at this time.
Anna Falk married Emil Pringsheim, a member of a large and prosperous Jewish family in Breslau,† and produced two children - Pim and Stefi.
| | | |
| --- | --- | --- |
| | | |
| Hans, Anna, Fritz and Erich Falk about 1889 | | Stefi, Anna and Pim |
Anna's daughter Stefi Pringsheim , was born in Breslau, Germany on December 20, 1894. Her family moved to Berlin when she was a young girl. She married Paul Meyer in Berlin around 1915. They had one child, their daughter Gerda who left for Johannesburg, South Africa in 1933. Gerda married Mr. Melchiker, was divorced, and was married again to Paul Adler. (Paul Adler died in about 1985, and Gerda died on August 10th, 1995.) Dr. Paul Meyer was an obstetrician and gynecologist. He fled Germany some time in 1938-9 and made his way via Sweden, Russia and China to San Francisco.
Stefi left Germany late, in 1939, on the ill-fated St. Louis. However, after spending time on the ship she arrived in France with her old close friend Hans Kaim and also Samuel Mayer, whom she may have met first on the St. Louis. The three were initially lucky. They were hidden in France by a farmer for some length of time. But Hans Kaim, it is said, left their hiding place to get a head of cabbage, and was caught by the Germans. He was never to return.
Regretably we can learn more. The records left by the Nazis reveal that on 7 March 1944, Hans Kaim (born 10 Oct 1884 in Breslau, Germany) was sent on Transport 69 from Drancy, France. His destination was the Auschwitz death camp. There, it may be assumed, he was murdered.
Stefi, however, survived. She later settled in Lyon, and, as she spoke fluent French, lived there as a French woman who taught foreign languages. After the war, in1947 she, got a visa to the USA, and arrived in New York on June 2, 1947. She spent many weeks in Great Neck before leaving for Spokane, Washington to be with Samuel Mayer who had moved there to join his daughter, Lore Hannes. He was employed in a synagogue and Stefi worked for a milliner selling hats. Since Stefi was already estranged from her husband Paul Meyer when they lived in Berlin, she later obtained a divorce, married Samuel Mayer and lived contentedly until Samuel's death. She moved to live near her daughter Gerda in Johannesburg, South Africa and stayed there until her death on March 14, 1974.
Anna's other daughter was nicknamed Pim Pringsheim Her real name was Hildegard but she didn't like it much, and because her hair stuck up, was nicknamed "Pim" which means "brush". In Germany, Pim was married first to Fritz Behrendt ,with whom she had three children, Gerhardt, Irene, and Annemarie. She divorced Fritz and married Berthold Cohn, who had four children, Esther, Peter, Dinah and Sabine. Upon their marriage, Pim and Berthold became parents to a blended family of seven children.
Pim and Berthold also made it to the USA. After his arrival, and with the permission of Pim's previous husband, Fritz, her new husband Berthold also adopted "Behrendt" as his last name. He and Pim did not differentiate between the children of their previous marriages, all were one family. Pim's grandaughter Julie Kramer writes: " She was very loving with a great sense of humor, even when she was the subject of the laughter. Small in stature, Pim had a large amount of energy, a great sense of style, an interest in current events (as well as the fine details of the lives of her children and grandchildren) and had many, many friends. She was open minded politically and otherwise." The substantial clan of relatives and descendants of Pim now living in the US speak well to this triumph of life over the genocidal Nazi program which she had escaped.
Erich Falk was the youngest of Ferdinand Falk's four children. (He is the baby in the photo above) born when his brothers and sisters were in their late teens. He is said to have been a very enterprising man but, as his daughter Eva reports, like many others he did not understand what was happening in Germany as the Nazis took power. He had fought for Germany and Kaiser in the first world war. He did not want to leave Germany and since his wife Lisa was not a Jew he was able to transfer his property to her and retain it. But in 1938, even this semi-protection was not enough. So they sold everything and left, settling in the end in Tel Aviv in Israel. There their family grew up.
| | | |
| --- | --- | --- |
| | | |
| Erich Falk (1889-1959) | Wife, Lisa Falk | Card of Claude Cassirer who took the photos here and below |
In 1950 an eye doctor took six boys who had finished their army service to grow vegetables on land near a village which had been left in 1948 by an Arab Sheik. This agricultural concern is still operating and Eva's husband and one of her sons continues to work there (as he has since 1950) growing mostly sweet potatoes, potatoes and flowers in what is now a substantial export business with some fifty employees.
The daughter of Erich and Lisa, Eva Falk, was only 8 years old when the family moved from Berlin where she had been born to Tel Aviv. But even their move there was disrupted. When the Italians bombed the town they moved to a village not far away which had been founded in 1933 by German academics - doctors and lawyers. This community started to grow vegetables and whilst they all spoke German also tried to learn Hebrew.
| | | |
| --- | --- | --- |
| | | |
| Cassirer family photo ~1925 with Lisa and daughter Eva (about 5 years old) in back row. | | Erich and Lisa with children |
In time Eva married her husband Hans Senger in 1950. He had came to Israel from Stettin in Germany in 1939 after his parents were killed in Auschwitz. They produced a son, Oded, and daughter Gabriela. Photos of them in 2005 are shown below.
| | | |
| --- | --- | --- |
| | | |
| Eva Senger (ne Falk) | Hans Senger | Eva and Hans |
As of 2005, there were also five grandchildren - the oldest having finished University, one married, and two at University.
| | | |
| --- | --- | --- |
| | | |
| Gabriela, husband Yoav Feldman and daughters (from left) Rona and Dana | | Oded, wife Gila (ne Cohen) and children (from left) Oneg, Guy, Liron and her husband Yehezkel Kalimi |
Fritz Falk, the older brother of Erich, led a life which took a very different trajectory. The effect of the war combined with the rise to power of Hitler and the Holocaust was to shatter and often scatter German Jewish families. Thus whilst they found themselves in very different contexts their lives did share one thing in common - the destruction of life as they new it and the difficult task of rebuilding their lives in a new country.
It was through Fritz Falk's marriage to Charlotte Betty Cassirer that the Falk family in Berlin had connected to the wealthy and dynamic Cassirer family. The young Fritz is shown below, and it suggests that the young Cassirer daughter (at the age of 19 years when they married) and the dapper young man might have made a handsome couple.
| | | |
| --- | --- | --- |
| | | |
| Fritz Falk as a young man | Betty Falk | Fritz Falk |
Fritz became a medical doctor but having joined to the Cassirer family it was natural that he would be set up with a practice in a prestigious suburb of Berlin in the same way in which the Cassirers had become established. From 1905 Fritz and Betty lived in Berlin at Kantstrasse 124. In 1912, after 7 years of living in Kanstrasse and having proved to the satisfaction of Betty's father, Isidor Cassirer, that he could run a good practice and was a respectable and decent man, Isidor insisted that the couple live in better quarters and so they moved to the quarters in Dams which was the elite street in Berlin - No. 62 Kurfürstendamm and a very beautiful part of Berlin. Fritz and Betty had two children - a son whom they named Werner Ferdinand Falk (born in 1906), and a daughter whom they named Else Falk (born in 1908)
| | | |
| --- | --- | --- |
| | | |
| Sister and Brother: Else and Werner Falk | | 62 Kurfürstendamm, Berlin which served as home for the family and medical consulting rooms for Dr. Fritz Falk. |

Letter from Betty Falk on the letterhead of Dr. Fritz Falk, medical practitioner.
Fritz's son Werner, reflecting near the end of his life was later to describe the house:
It was a 12 roomed apartment. What that apartment had - you can't believe it. Well when you came in, it had my father's consulting room and it had on one side and then on the other side a waiting room. And then there was a big sort of entry. If you had too many patients at once they could wait there too. Then off that part was a huge living room, very well furnished. Next to this was a salon, that was the sort of prestige living room with very good furniture. Actually most of the furniture, the salon furniture, the living room furniture, the dining room furniture, was all specially made. And the dining room was so large that my parents could give dinner parties for 40 people in our dining room without moving the Bechstein Piano.

I still can't understand how this was all possible economically. The rift, or discrepancy, between well to do middle-class and working class was just unbelievable! We lived in a house that had 6, 12 or lets say 10 of these giant apartments. It was a giant house. We had a janitor who lived downstairs in, well it can't even be called an apartment. ...He and his wife always had to be there because they had to open the door. I mean you couldn't get into the house unless you rang a bell. And the janitor or his wife had to look out and see who it was and whether to let you in. I suppose there were more proletarian ways of living but this was bad enough. But the difference explains a lot about 1918 and so on.
Even for the relatively modest life style of Fritz and Betty compared with their wealthy Cassirer counterparts this was living in style. It must have all seemed so settled and successful. But the first ripples over this domestic tranquility came with the First World War.
In 1914 Fritz was conscripted and the family feared he would be sent to active duty at the front. But the impact was not so onerous. As Werner was later to note:

Then when I was 8 the War years started and it was really the end of an epoch. That was 1914. And I remember quite a bit of the days when the War broke out. We were on summer vacation in Bavaria and we went back to Berlin in a hurry on an overcrowded train. And then as a boy of 8 I was very upset because there was immediately the question of my father going into the military. Now fortunately he had a medical examination in the first week or so of the 1914 War and apparently something wasn't quite right with his heart. There was never anything that had been the matter with his heart and there was never again anything the matter with his heart. I suppose it was just good old alarm about the whole situation. Anyway he was conscripted but not for front-line duty but for base duties. And as he was a medical man he became a medical doctor. And he was moved to a small town near Berlin, called Furstenwalde and when it became clear that he would be stationed there for a long time, we all moved to Furstenwalde. And my first school and pre-school and gymnasium experiences were all in that little place from 1914 to 1919.
With the war also came a period of rapid inflation in which most of the fortune of Isidor Cassirer, Betty Cassirer's father, was disolved. So at the end of the war Betty and Fritz found themselves considerably less wealthy. Nevertheless, the assets of the Cassirer family as a whole remained very substantial and they continued to do business with energy and effect. So slowly the family settled back to life once more in Berlin.
A particular note of happiness was struck when Werner's sister Else Falk married (around 1930). Her husband was Helmuth Schlesinger and the wedding picture (below) provides a visual perspective of the entwined Falk and Cassirer family as they then were - still in Berlin and still living with considerable presence and wealth.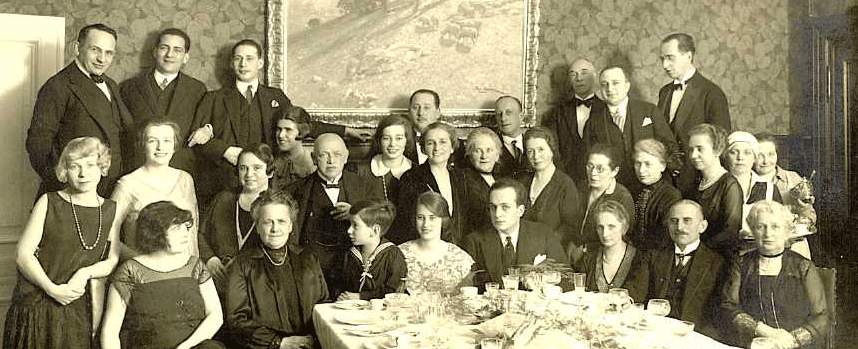 Wedding reception of Elsa Falk and Helmuth Schlesinger (front Center) about 1930
Back row: (1) Erich Cassirer, (3) Werner (David) Ferdinand Falk, (4) Rudolph Cassirer, (7) Erich Falk, (8) Fritz Cassirer (Claude's father)
Centre row: (1) Erika Cassirer - Erich Cassirer's wife, (4) Max Cassirer, (5) Anna Elizabeth Cassirer (?), (11) Betty Falk (ne Cassirer)
Front row: (1) Lilly Cassirer, (3) Claus (Claude) Cassirer - in sailor suit, (4) Else Schlesinger (ne Falk), (5) Helmuth Schlesinger, (7) Fritz Falk, (8) Anna Falk (?).
However, by 1935 - still prior to the Second World War, it was becoming clear that Germany was not a good place to be for Jews. So around that time, Fritz Falk and his wife left Germany. At that time it was possible to take possessions but not money (and hence there are still in the possession of the family some family silver, table linen and crockery from the time). Fritz and Betty Falk, and Else, her husband Helmuth Schlesinger, and their daughter Odette Schlesinger all went to Nice in Vichy France at the time of the fall of France to Germany. From there Betty and Fritz were smuggled across the border into Switzerland using in part, US dollars taken to the US by Fritz's daughter in law, Barbara Falk (ne Cohen).
Else settled in France where she and Helmuth brought up their daughter Odette. Else died in Paris in 2003.
After the war Fritz and Betty Falk came to Oxford and lived, at first, in the attic of the Crescent School - a school set up by Oxford academics which their grandchildren attended. Betty Falk was School cook. They later moved into a flat. In 1951 Fritz and Betty followed Werner (David) Falk to Melbourne Australia. There Fritz lived until his death in 1957. Later Werner would leave for the USA, and Betty would follow him once more. There she lived for a time with her cousin Kurt Goldstein on 5th Avenue in New York, and eventually died in New York on 7 September 1972 aged 86.
| | |
| --- | --- |
| | |
| Fritz Falk (~1875-1957) in 1946 | Betty Falk (1886-1972) in 1972 |
As for their son Werner, there is much more able to be said. An account drawn substantially from an interview with him in his last years can be read by clicking here, and more of his story is provided on the next page.