Family Card - Person Sheet
Birth
12 Jun 1850, Great Bourke St, Melbourne, VIC, Australia9
Death
1884, Victoria, Australia9
Burial
1 Aug 1884, Melbourne General Cemetery Jewish Section A-422
Birth
12 Jun 1850, Melbourne, Victoria, Australia
Death
30 Jul 1884, Melbourne, Victoria, Australia873
Spouses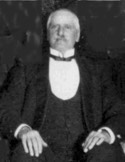 Birth
1838, New York, New York, USA
Burial
22 May 1919, Melbourne General Cemetery Jewish Section A-423
Death
21 May 1919, Melbourne, Victoria, Australia872
Marriage
1872, Melbourne, Victoria, Australia
Notes for Miriam COHEN
Date of marriage and death from VIC BDM. No birth found, however date might be the reason. Age at death from Vic records.
From the Argus of (?) June 1850 - COHEN Mrs E. Birth on Saturday 12 June at her residence Great Bourke Street, Mrs Edward Cohen of a daughter.
This must surely be the birth of Miriam.
9