Family Card - Person Sheet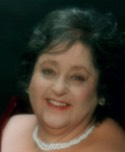 Name
Miriam Lydia CASSIRER


110
Birth
2 Feb 1936, St Gertrude's Hospital, Berlin, Germany648
Notes for Miriam Lydia CASSIRER
Lived in Seattle and is unfortunately became ill health in 2004.
654
Miriam wrote before her death: "I was born on February 2 1936 @ St. Gertrudes hospital. My mother said Jewish
women had to walk downstairs to the delivery room!! That was my beginning!! "
648
Miriam's first name is spelt "Mirjam" on her birth certificate.
655